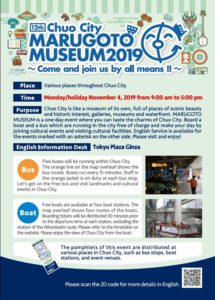 Chuo City is like a museum of its own, full of places of scenic beauty and historic interest, galleries, museums and waterfront.
MARUGOTO MUSEUM is a one-day event where you can taste the charms of Chuo City.
Board a boat and a bus which are running in the city free of charge and make your day by joining cultural events and visiting cultural facilities. Please visit and enjoy!
Find details on MARUGOTO MUSEUM free transport (Bus and Boat).
Events in Chuo City Marugoto Museum 2019
English-speaking staff is/are available at events below.
Events with * mark require pre-registration.