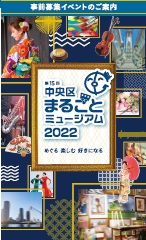 Chuo City is like a museum of its own, full of places of scenic beauty and historic interest, galleries, museums and waterfront. MARUGOTO MUSEUM is a one-day event where you can taste the charms of Chuo City.
Take a walk around the city and make your day by joining cultural events and visiting cultural facilities. Please visit and enjoy!
Events in Chuo City Marugoto Museum 2022
Pre-registrations open now for the events in Chuo City MARUGOTO MUSEUM 2022
English-speaking staff is available in the events below.
All events require pre-registration.
Date: Sunday, November 13th (Some events may be held on another day.)
Time varies depending on the event.